Museum Hours
Bowers Museum
Tuesday - Sunday
10:00 am - 4:00 pm
Kidseum is currently closed for renovations. All family programs will continue at the Bowers Museum.

Closed
Mondays
Fourth of July
Thanksgiving
Christmas
New Year's Day
Weekdays
Weekends
Children Under 12*
*Must be Accompanied by paying adult
Free at Bowers
Free at Bowers
Adults
$13
$15
Seniors (Age 62+)
$10
$12
Students (12+)
$10
$10
Accepted Forms of Payment:
Cash, Personal Check, Cashier Check, American Express, Mastercard, Visa, Discover
Individual Ticket Information
2002 North Main Street, Santa Ana, CA 92706
The Bowers Museum
is located at the corner of 20th & Main Streets in Santa Ana - one minute from the 5 freeway, (Main St. South exit) and just minutes from the 57, 55 and 22 freeways.
Kidseum
is located on the corner of 18th and Main Streets - south of the main Bowers Museum. Parking is available in a well-lighted conveniently located area, adjacent to the Museum. Wheelchair accessible.
Parking
Parking Lots are available directly north and south of the museum for a $6 fee. Nearby metered and timed street parking is also available. Bowers Museum Members have the exclusive opportunity to purchase an Annual Parking Pass for $20.
Public Transportation
The bus line servicing the Bowers Museum and Kidseum is the OCTA bus number 53. Metrolink and Amtrak trains stop at the Anaheim Station (3.5 miles from the museum), and the Santa Ana Station (1.7 miles from the museum).
We hope your visit to the Bowers Museum is as enjoyable as possible. If you have a question or special need, feel free to visit the Information Desk in the lobby, or simply ask a staff member or security officer.
The Bowers Museum reserves the right to inspect purses, briefcases and packages as employees and visitors enter and leave the premises.
Cameras
Still photography is permitted at the Bowers for private, noncommercial use. Photographs may not be published, sold, reproduced, transferred, distributed, or used commercially in any manner.
The use of flash photography and/or tripods is prohibited at all times.
For inquiries related to press or commercial filming/ photography opportunities at the Bowers, please visit our Online Pressroom.
Photography/Video Policy
As a visitor to the museum, you hereby grant to Bowers Museum the irrevocable and unrestricted right to use and publish photographs or video of you for Bowers Museum publications, electronic reproductions (websites, social media) and/or promotional materials or any other purpose and in any manner or medium. In addition, you grant permission to alter the same without restriction; and to copyright the same.
You further acknowledge that by entering the property of the Bowers Museum that your participation is voluntary and you will not receive financial compensation of any type associated with the taking or publication of photographs and or videos or participation in company marketing materials or other publications. You acknowledge and agree that publication of said photos and or videos confers no rights of ownership or royalties whatsoever.
You hereby release Bowers Museum, its contractors, its employees, and any third parties involved in the creation or publication of marketing materials, from liability for any claims by you or any third party in connection with your participation.
Food and Drink
Food and Drink are not allowed in the Museum's galleries or Kershaw Auditorium. Food and drink are available for purchase at Tangata, our beautiful restaurant in the Margaret Key Courtyard.
Gallery Behavior
It is prohibited to touch any of the artwork in the galleries. Many are very fragile, and even the stroke of a gentle finger can leave a residue of damaging oil on an object. For your protection and safety, no climbing is allowed on outdoor sculptures.
Re-Entry
You may not re-enter a Specially Ticketed Exhibition.
You may exit the Museum and our permanent collections and return later in the day if you would like. Tickets are valid from the printed entrance time through the end of operating hours on the day of your visit. Just remember: please retain your admission sticker and ticket stub to present upon re-entry
Restrooms
Restrooms are located on the main floor in Dorothy and Donald Kennedy Wing in the Anthony W. and Sharon D. Thompson Foyer and off the John M. Lee Court in the Dr. Wan-Lin & Assumpta Kiang Family Foundation Rotunda. Restrooms in the Historic Wing are located off the Main Foyer. All of these restrooms locations are wheelchair-accessible. Drinking fountains are located near the restrooms in the Dorothy and Donald Kennedy Wing.
Sketching
Sketching is permitted in the Bowers' permanent collection galleries and special exhibitions. You may write down notes or sketch in the galleries, but only using dry media, such as No. 2 pencils. Please refrain from leaning against walls or glass cases while sketching.
Strollers
Baby strollers are permitted at all times in the permanent collection galleries. However, the use of strollers may be restricted in special exhibition galleries due to certain loan restrictions and high visitor volume in these areas.
Backpacks, large purses, briefcases, and luggage are not permitted in the galleries at any time.
For additional information call 714.567.3600
Public Tours are offered daily and are free with General Admission. Schedule is subject to change, please check-in at the admissions upon arrival for the most current information.
Tue-Fri
1 pm Best of Bowers Public Tour
2 pm Public Gallery Tour
Sat
11 am Public Gallery tour
1 pm Best of Bowers Public Tour
2 pm Public Gallery Tour
Sun
11:30 am Public Gallery Tour
*1 pm Best of Bowers Public Tour
2:30 pm Public Gallery Tour
* Note: There will be no 1 pm Best of Bowers Tours on the first Sunday of the month (Festival Days)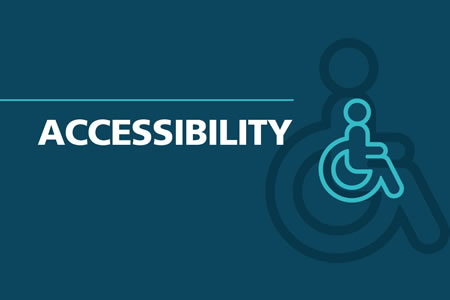 All areas of the Bowers Museum are wheelchair accessible. Wheelchairs may be requested at the time of your visit from the security officer at the Museum's entrance. Wheelchairs are available on a first-come, first-served basis and are complimentary.
Complimentary admission will be given to caregivers who are accompanying a visitor with accessibility needs.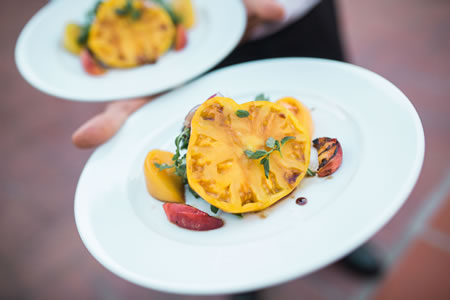 Tangata Restaurant (or "mankind" in the tribal Maori language of New Zealand) features modern decor enclosed by glass walls, a ceiling framed with stuccoed beams, and large windows to allow ambient light to illuminate the main dining area. Located in the Bowers Museum's Mission-style courtyard, the restaurant dedicates half of its seating to alfresco dining on two large patio areas. The patios and courtyard are perfect for romantic weddings or evening receptions. Tangata is open for lunch Tuesday through Sunday, with a diverse menu of Pacific Rim-inspired cuisine. In addition to an array of appetizers and main courses, Tangata Restaurant offers a tantilizing selection of desserts and a sophisticated drink menu.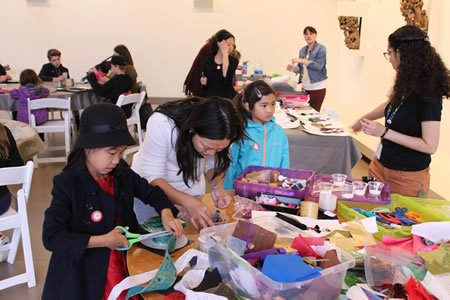 Families are welcome at the Bowers Museum and encouraged to take advantage of our free admission for children under 12 years old.
Bowers Family Scavenger Hunt offers a fun, interactive way for children to explore the galleries while learning. Pick up a copy at the admissions desk and collect a prize once completed!
Enjoy a special kids' menu at Tangata Restaurant upon request, limited to availability.
Changing tables are available in each restroom in our oversized stalls, indicated by a changing table decal on the door.
Baby strollers are permitted at all times in the permanent collection galleries. However, the use of strollers may be restricted in special exhibition galleries due to certain loan restrictions and high visitor volume in these areas.