Curbside Pickup Menu
Tangata Restaurant at Bowers Museum remains committed to serving, now offering curbside pick-up Tuesday-Friday from 11AM - 2PM.
All orders are accompanied with reheating instructions from our chef and disposable service ware. Please call 714 567 3623 or email bowersevents@patinagroup.com to order.
Dining at Tangata Restaurant
Tangata Restaurant (or "mankind" in the tribal Maori language of New Zealand) features modern decor enclosed by glass walls, a ceiling framed with stuccoed beams, and large windows to allow ambient light to illuminate the main dining area. Located in the Bowers Museum's Mission-style courtyard, the restaurant dedicates half of its seating to alfresco dining on two large patio areas. The patios and courtyard are perfect for romantic weddings or evening receptions. Tangata is open for lunch Tuesday through Sunday, with a diverse menu of Pacific Rim-inspired cuisine. In addition to an array of appetizers and main courses, Tangata Restaurant offers a tantilizing selection of desserts and a sophisticated drink menu.
Reservations are recommended.
Phone Reservations: 714.550.0906
Tea on the Terrace
Every Friday, Saturday and Sunday March – August 2020
Seatings at 11 AM and 1:30 PM
$60 per adult / $35 per child (ages 3-11)
(plus tax)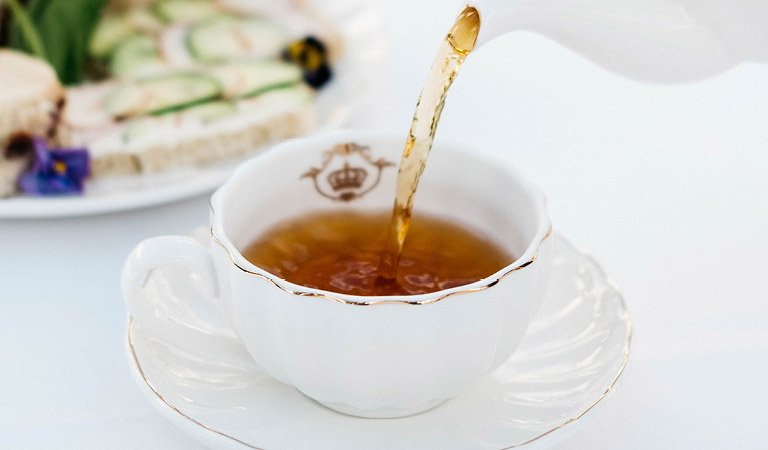 Before taking in the magic of the Inside the Walt Disney Archives: 50 Years of Preserving the Magic, enjoy a delightful tea time inside the beautiful courtyard of Bowers Museum! Elegance shines as guests enjoy a classic tea service with custom tableware, classic china and beautiful green hedges.
Guests are invited to select a tea of their choice while they nibble on sweet and savory treats provided on artful three-tiered stands. Complete your experience with a glass of prosecco or Banfi Rosa Regal.
Each tea service reservation is for 1.5 hours. Tickets include admission into the exhibition Inside the Walt Disney Archives: 50 Years of Preserving the Magic.
Indulge In A Delightful Dining Experience
Tangata Restaurant and the Bowers welcome groups of all sizes and offer special pricing to ensure the most memorable experience. Tangata Restaurant serves delicious, Pacific Rim-inspired cuisine for groups of 15 or more. Plan a sit-down meal inside the restaurant, a leisurely lunch on the patio, or enjoy a picnic boxed lunch in the courtyard. Make it a truly special event by planning an elegant, fully catered meal in an exclusive on-site setting.
Plan group dining by calling 714-567-3630 (Reservations are required for groups).
Enjoy a leisurely luncheon at award-winning Tangata Restaurant. Outdoor seating is also available, overlooking the Bowers Museum's historic Mission-style courtyard. Browse the rare and exotic at the Bowers Museum Gallery Store.
It's more than just a shopping trip—it's a cultural experience.
Tangata/Patina Restaurant Group Catering
Tangata Restaurant is perfect for social or business luncheons and gatherings. Our sophisticated cuisine and impeccable service will impress your guests. Located just off the 5 freeway, we also offer convenient parking. The Bowers Museum adds a twinkle to romantic weddings, banquets and receptions under the stars with its lush Mission-style courtyard, replete with romantic fountains, year-round flowers, an attractive tiered patio, and Spanish-style balcony.
Learn more about Tangata/Patina Restaurant Group Catering.
To receive more information about our catering and private event options, please contact Tangata Restaurant General Manager:
Cherie Yuen | 714-567-3630
cyuen@patinagroup.com
Sign-up for Tangata e-newsletters

CHERIE YUEN
CATERING SALES MANAGER | Bowers Museum & Tangata Restaurant
2002 N Main St | Santa Ana, California 92706
T 714.567.3630 | C 949.244.7619 | F 213.814.1857 | cyuen@patinagroup.com
Follow us on Facebook, Twitter, and Instagram. Be inspired by real events and weddings on our Pinterest Boards